We are all looking for simplicity in life because simplicity reduces our stress level. 
Many new traders don't know where to start but want to trade all 28 forex pairs because they are afraid to miss an opportunity.
Calm down, guys! It's important to focus on specific things and trading pairs. Once you managed to have a stable set of rules
there are endless trading opportunities right around the corner during the next days, weeks, months and years.

So let's look at what we know for sure.
Fact 1: The US Dollar is the leading currency of the world.
Fact 2: The majority of all Forex trades is executed in USD pairs.
Conclusion: If the USD volume changes, this affects the entire market.

And how can we benefit from that?

With FX Volume pretty simple because you see on your charts when the REAL trading volume changes.

And you see the changes in volume mostly BEFORE the major move happens.
Just have a look at the charts below.
EURUSD M5
AUDUSD M5

Does this work always on every USD pairs?
Most probably not, but it's worth to check USD pairs in case you see USD long ratio moving.
EURUSD is an almost sure bet, because it's the most traded pair in the world. Others need to be checked.
How to get a chart like this?
1. Open a EURUSD M5 chart
2. Add FX Volume and switch to the colors tab
3. Change the line colors like seen below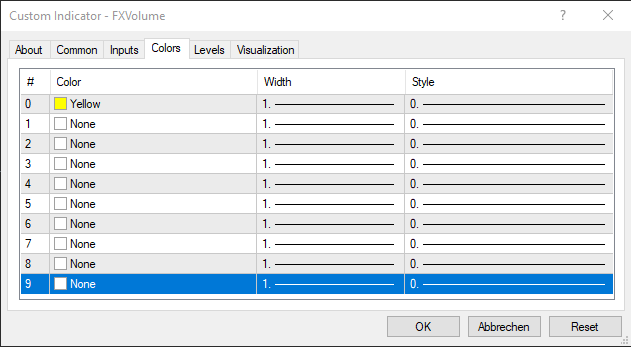 You want to know more about FX Volume?
Visit our FX Volume info channel on Telegram
All the best and happy trading
Daniel